"We have been in our beautiful home for 3 months and could not be more pleased with the house and building process.
The service was above first class from the beginning of our journey with sales, and throughout the build with our supervisor and colour consultant. 
Our ideas were listened to and any concerns we had were addressed so promptly and the team always provided us with helpful advice. The team at Nu Trend were always honest, transparent and treated us with respect. 
We had a vision of our dream home and Nu Trend delivered exactly that!
We can't thank the team enough for this amazing experience and cannot wait to build with them again in the future."    
Chris and Jade – Peregian Springs 
"Our experience with Nu Trend was fantastic. The sales team were a delight to work with. Their experience and professionalism made the whole design process a breeze.
There were no hidden costs associated with our build and the Colour Consultant's keen eye for detail ensured that our house was everything that we had dreamed it would be.
The construction team were transparent with each stage of the build and were always happy to meet on site for walk-throughs. The team were more than accommodating and were able to deliver our house in just under 13 weeks.
We would recommend Nu Trend to anyone looking to build and would definitely build with them again." 
Ryan & Sarah – Baringa
"We are so absolutely grateful we chose Nu Trend to build our first home and can't thank you all enough.
The support the entire Nu Trend team have shown us is beyond amazing and unbelievable.
Thank you so much for helping our vision with all our colour selections and your opinions.
It has been an incredible journey and yes our home is beyond everything we ever could have wished for."    
Nicole & Damien – Baringa 
In Love With Our
New Home
"From beginning to end it has been such a breeze to have Nu Trend build our house.
We had been to 2 other builders before walking in to the Caloundra office. The salesman was so welcoming and sat down with us and asked all the right questions and gave the right answers, making us choose to build with Nu Trend Quality Homes.
We then moved on to the Colour Consultant who helped us with all the nitty gritty things, ensuring that we had chosen all the right colours, helping us to match everything so that our house would be perfect.
Then we moved on to the build, after loads of rain and dealing with a pond then swimming pool on our block we met our Site Supervisor who kept us sane through this time and pushed so hard to get our house built for us.
So thank you to Nu Trend Quality Homes for building our first home! We are in love with it and this wouldn't be possible with­out you all. If you are after a Quality Custom Builder then please ring them, they won't disappoint I promise."   
Sheryl & Shane – Peregian Springs
"When we first told people we were building many told us we were crazy, but they obviously never built with Nu Trend. 
From the beginning to the very end we had no dramas at all, it was a fantastic experience. 
We could tell by the site supervisor's attention to detail that he was not building a house from a set of plans, but truly building our home and we could not be more appreciative. 
The only thing that would stop us from building again is the fact that we love our house and have no plans of moving.
Thank you so much to each and everyone at Nu Trend Quality Homes."    
Debbie & Matt – Baringa
"Nu Trend have exceeded our expectations, yet again!
We have just finished building our second house with Nu Trend and couldn't recommend them enough.
Fast build time and great finishes.
The whole team were a delight to deal with – always going above and beyond. Thank you."
Jason & Jodie – Baringa
"It has been a pleasure to build with Nu Trend.
All the staff we had dealings with were very professional and accommodating, especially our project manager.
He filled all our requests and was always happy to answer any of our queries.
I would recommend Nu Trend to any of our friends who want to build in the future."    
Unica & Francesco – Baringa
"We have just moved interstate and built with Nu Trend Quality Homes! From start to finish the Nu Trend team were amazing!
We have built previously in Sydney but this has by far been the best building experience.
Exceptional customer service, attention to detail, friendly communication and great quality of work! Was such an easy and stress free build!
Would definitely recommend Nu Trend to anyone looking for a professional and hassle free build! Thanks guys, we are loving our new home!"     
Jess – Bli Bli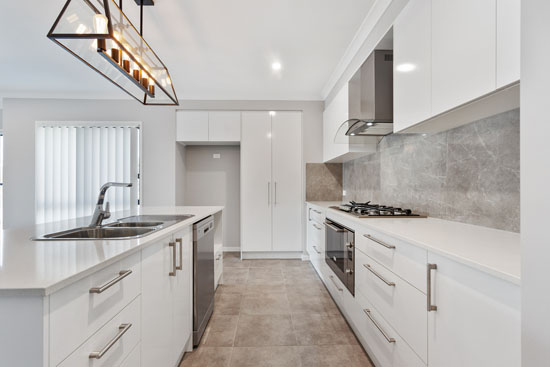 "Just wanted to pass on my thanks to the Nu Trend team involved in the construction of my prop­erty at Landsborough.
I'm so happy with the house and could not fault one thing on the final inspection. It was a headache free build from start to finish and the attention to detail shows.
Thanks again for corre­sponding with my mother while I was out of service range and for all your help with colour selection.
I'll definitely be recommending and looking to build with you guys again in the future."    
Kiera – Landsborough
"I personally want to thank all the guys at Nu Trend Homes for a carefree build.
From colour selection, to slab, to lock up, through to finish – it was a perfect experience.
Clean site, welcoming team and amazing finish on the property for my daughter.
Thank you all! ZERO defects which is unbelievable.
Would I recommend Nu Trend? ABSOLUTELY. 100%"    
Aaron – Baringa